Promt Expert NMT 22.0.44 Multilingual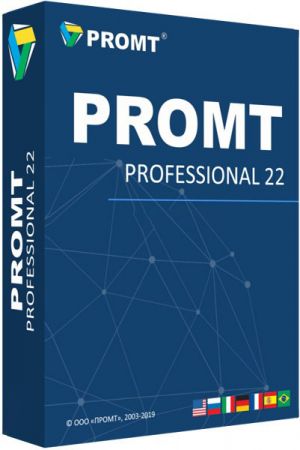 Languages: English, Spanish, Chinese, German, Russian, French | File Size: 3.91 GB
PROMT Expert NMT is a neural network-based desktop solution for organizing the translation and localization process in translation companies and translation departments.
Features of PROMT Expert NMT:
- Support for projects for the translation of technical documentation and other standard documents
- Integration of corporate resources - translation memory, dictionaries and glossaries
- Control and management of specialized terminology
What tasks can you solve
- Improve the efficiency of translators. With our solution, you can improve the efficiency of your translation team. High quality translation and flexible integration with SDL Trados allow using it in translation agencies and translation departments of companies on any large-scale projects with tight deadlines.
- Ensure confidentiality. PROMT Expert NMT is the optimal solution for translation tasks requiring increased attention to secrecy or containing state or commercial secrets. Remember that when using cloud translation services, you are not immune from leaks and from the use of any translated content by the service owners.
- Reduce translation costs. You will be able to reduce translation costs. The translation produced with a modern machine learning solution is highly accurate and requires little post-editing. You will be able to quickly prepare the translation of accompanying documentation, reports, presentations, localize the content of the site or the description of goods and services, as well as translate texts of any volume and complexity at a lower cost.
Promt 22 Expert NMT features:
- Neural machine translation. Neural network technologies at the heart of PROMT Expert NMT provide accurate, coherent and high-quality translation of texts and documents of any size on a PC or laptop in offline mode. PROMT Expert NMT is an effective tool for optimizing the work of professional translators.
- Smart dictionary setting and custom translation profiles. PROMT Expert NMT allows you to control terminology using Smart and Simple Neural Dictionary. You can create your own custom dictionaries and translation profiles through a simple and convenient interface. The use of custom dictionaries improves the quality of translation and reduces the amount of post-editing.
- Translation of documents in one click. PROMT Expert NMT supports translation of entire documents in .doc, .doc (x), .xls, .xls (x), .ppt, ppt (x), pdf, odf and others format. The original formatting is preserved during translation.
- Integrated help resources. Thanks to the integrated resources, you can not only translate words, texts and documents, but also receive useful background information: declension of nouns and conjugation of verbs, translation options for a word or phrase in different contexts with examples of usage.
- Translation where you need it. With the PROMT Agent application, you can translate without switching between screens. It is enough to select a word or a piece of text in any program, and its translation will instantly appear in a pop-up window next to the original text.
- Confidentiality of translated data. PROMT Expert NMT works 100% offline and does not require an internet connection. Therefore, all translated data will remain on your computer or laptop and will not get into the network.
- Quality control of translation. The result of customization using the dictionary, as well as the overall quality of the translation, can be assessed using the Quality Assurance Lab app.
- An irreplaceable product for professional translators! Integration with SDL Trados Studio and the ability to customize a custom dictionary significantly speed up professional translation tasks. PROMT Expert NMT is the perfect solution for professionals looking to use the latest secure and responsive neural translation technologies on their PC and laptop. You can read the documentation here.
Languages:
- English
- Spanish
- Simplified Chinese and trad.
- German
- Russian
- French
Note: you can translate word or text from one of these languages to another of these languagesSystem requirements:
- Operating system: MS Windows 7 SP1 / 8.1 / 10 Anniversary Update (only x64 editions)
- Processor: Intel Core i5-44xx or higher (or AMD Ryzen 3 or higher), 6 cores or higher recommended
- RAM: at least 8GB, 16 GB recommended
- System disk space: at least 10GB (in case of additional installation of the local database of contexts - at least 30GB)
(Optional) To increase the translation speed, a video card (graphics processor, GPU) with at least 4 GB video memory and CUDA 10.x support is recommended (GPU class NVidia GeForce GTX1050 or higher is recommended)
Whats Newofficial site does not provide any info about changes in this version
-:DOWNLOAD FROM LINKS:-
RapidGator
NitroFlare
Donate Bitcoin 1SLKcwi5VbQrpoKnXUGfBLVcj3VCWVfnQ
Donate Ether 0x032f4d361571dA8cF5602D3C73530817365052B8