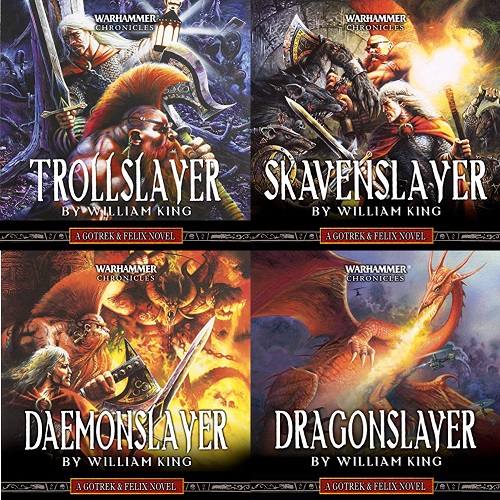 Gotrek and Felix: Warhammer Chronicles Series Book 1-4 - William King
Narrator: Jonathan Keeble
Genre: Fantasy
Audio format: M4B
A Gotrek Gurnisson novel.
When Felix Jaeger, a student, poet and minor political agitator, swears a drunken oath to a half-mad dwarf, it changes his life. Adventure awaits, as Felix records the mighty deeds of Gotrek Gurnisson, Trollslayer.
Listen to It Because: This collection of stories is where the saga of Gotrek began. Mutants in the forest, goblins in the mountains, a troll beneath the world - from these small beginnings came the greatest partnership in the Old World and a hero who has crossed realities and become a legend.
The Story: Gotrek and Felix: unsung heroes of the Empire or nothing more than common thieves and murderers? The truth perhaps lies somewhere in between and depends entirely upon whom you ask....