Space Knight Series Book 1-6 - Michael-Scott Earle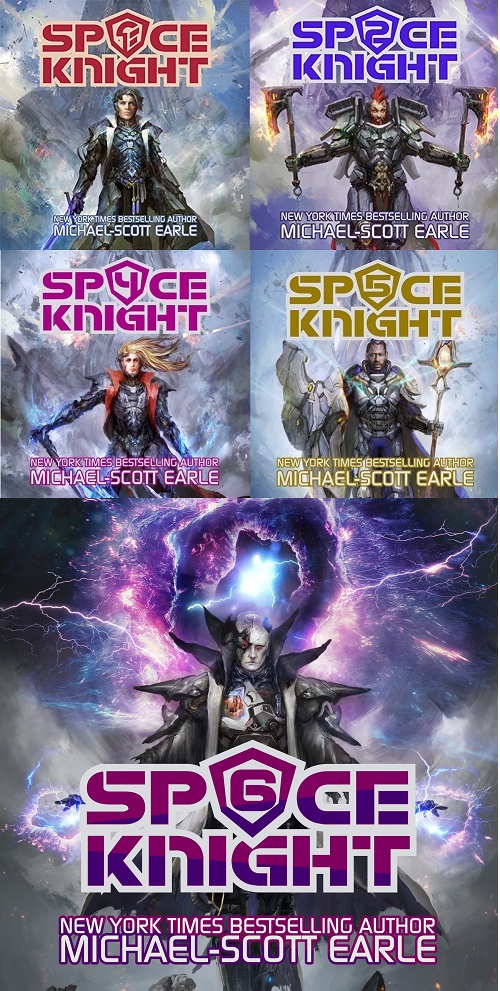 Space Knight Series Book 1-6 - Michael-Scott Earle
Narrator: Nick Podehl, Alex Perone, Marissa Parness
Genre: Fantasy, LitRPG
Audio format: MP3
Nicholas Lyons lives in a universe where technology and magic are often found side by side, and he wants to use both to serve his queen as a Space Knight in the Royal Trident Forces. But when his loyalties are torn between the throne and his new crew, he must decide which way he and his incredible magic powers will be pulled.
For Nicholas, everything starts to go wrong during his final mission as an Academy cadet—after he discovers his illegal magical abilities and realizes their incredible power. Shunted off onto the worst starship around on a secret assignment, Nicholas befriends a crew of warriors hiding secrets of their own. With danger in every step, will Nicholas choose loyalty to his new crew or the oath he swore to his queen? Either way, death lurks behind every corner. As Nicholas keeps moving through his complicated political situation, he spends each installment navigating the world as best he can to end up on top - or even just alive.
Nick Podehl brings the world of Space Knight to life with his outstanding delivery and vibrant performance. With a unique flair to each of the characters, his smooth voice pulls you through the twists of this drama-filled space adventure and deftly shifts to fit each new emotion throughout the story.
Michael-Scott Earle got his break writing stories in the late 80s, making up new adventures and characters for the world of the Teenage Mutant Ninja Turtles. His storytelling skills were refined in high school with role-playing games like Dungeon & Dragons, Heroes Unlimited, Deadlands, and Shadowrun.
http://www.filefactory.com/file/3684fcihwocg/SpaceKnight.part1.rar
http://www.filefactory.com/file/71csfpzu1soq/SpaceKnight.part2.rar
http://www.filefactory.com/file/8j2y5d25aju/SpaceKnight.part3.rar
https://nitro.download/view/342A0B3EB492428/SpaceKnight.part1.rar
https://nitro.download/view/D432971B426007F/SpaceKnight.part2.rar
https://nitro.download/view/26E9C1E2D596379/SpaceKnight.part3.rar
https://rapidgator.net/file/6f3b9b15f2ab41a88fc92d429f089ab2/SpaceKnight.part1.rar.html
https://rapidgator.net/file/2fed62fc49fd17c279e25014ba4fe008/SpaceKnight.part2.rar.html
https://rapidgator.net/file/0085d977e297d81e81ecba0d5acf86db/SpaceKnight.part3.rar.html

Donate Bitcoin 1SLKcwi5VbQrpoKnXUGfBLVcj3VCWVfnQ
Donate Ether 0x032f4d361571dA8cF5602D3C73530817365052B8
Join Robinhood with my link and trade crypto commission-free + join the crypto wallets waitlist 🤝 https://join.robinhood.com/maratk30?promo=crypto_wallets